College Park High School College Park, GA
1943 - 1988
Welcome to the CPHS Website! We, former students and teachers of CPHS, have been striving over the years to keep our memories of the good times and good friends we made during our short time at CPHS alive and well. This website is sponsored by the College Park High School 1943-1975 Reunion Committee to make contact and coordination easier, and hopefuly to find lost friends and classmates. We welcome any news about people or events relating to CPHS, and will be happy to present it here. If you have any news or messages, announcements of individual reunions, or anything else you'd like posted, please email us at GeorgiaCPHS@gmail.com, and we will put it under "class news." The more active you are, the better the site will be!!!
ANNOUNCEMENTS
FOR THOSE OF YOU WHO KNEW COACH JACK CUNNINGHAM
Coach Jack Cunningham was a colorful icon at CPHS for many years. Bob Nunnally, from the Class of 1976, wrote this article for Georgia Magazine. Click on the article to read it in its entirety.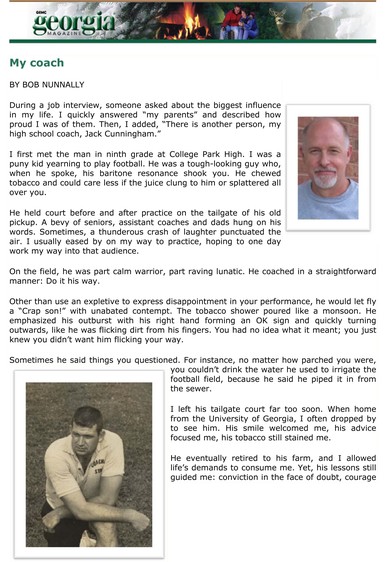 ~~~~~~~~~~~~
PHOTOS
Tommy Fields, Class of 1960, just provided us with a few "memories" we'd like to share. He provided several photos of the stadium, gym, baseball field and the memorial monument.

~~~~~~~~~~~
NEW DATE SET FOR THE 2015 MULTI-YEAR REUNION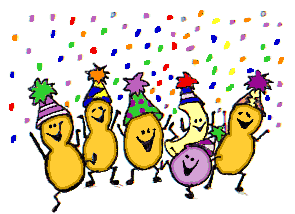 NEW DATE FOR THE REUNION -- SEPTEMBER 19, 2015
The Georgia International Convention Center could not give us the original date we had planned, so the new, confirmed, date is September 19, 2015. The next reuion committee meeting is schehduled for Februar 16, 2015, 6:30pm, at the College Park Public Safety Building. EVEN MORE DETAILS SHOULD BE AVAILABLE AFTER THAT TIME.
~~~~~~~~~~
ANNABELLE -- GRAND LADY OF COLLEGE PARK
The Class of 1964 recently held their 50-year reunion. Paul Daniels provided a write up giving some history of the Annabelle house:
At our reunion, lots of "stories" were shared including those about the CPHS campus and what will become of it, along with stories about other "noteworthy" structures in College Park, some no longer there (The Tennessee Corp office on HWY 29 adjacent to Newton Estates) as well as the grand Victorian brick home that still sits on property adjoining College Park High School. Upon returning home to Hilton Head Island, I came across a handout for "Annabelle", also known as "Palmour House," which I received at an open house some years ago after the property had been restored by the Stokes & Murphy Law Firm.
Brian Marsh sent us the handout, which I found fantastically interesting. If you'd like to see it, click here.
To see photos from the reunion, click here.
~~~~~~~~~~~~
NEED ASSISTANCE IDENTIFYING CLASS OF 1976 CLASSMATES
If you knew anyone in the Class of 1976, and think you can identify any of them, please go to Classmate Profiles-> 1976->Show Yearbook Photos. You will see names without photos, and photos listed as "Unidentified Classmate ##." Some have been identified by other students already. I posted all the senior photos, and I took the names from the list of accomplishments. If you can identify any, please email GeorgiaCPHS@gmail.com and provide the Unidentified Classmate number and the name that goes along with the photo. Any assistance will be greatly appreciated!!
~~~~~~~~~~~~~
We were just provided with a copy of a fabulous paper written by one of our alumnus that, when read, will take you back to the Halls of High. Classmate Nancy Pickering (Class of 1974) sent us a copy of this paper after finding it tucked away for so many years in the effects of her father, Jesse Shaddix, who was a teacher at CPHS. With permission of the author, Cynthia Blanton (Weeks) (Class of 1969), we share it with you all here. According to Cynthia, this paper is a collection of her notes for the speech she was asked to give upon the closing of the school in 1988. Two of the committee members, Martha McNiel (Class of 1969) and Beth Fitzpatrick (Class of 1970) asked Cynthia to give the speech, and the memories presented here were taken from various memories of the alumni. Click on the paper to read in its entirety.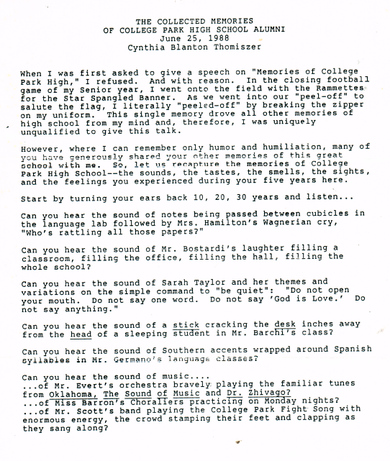 ~~~~~~~~
First-Time User or Haven't Set Up Your Profile Yet??
There are a lot more options available to registered users on our site, so if you haven't registered and created your profile yet, you'll probably want to!
Names of classmates from most years have already been added because we have taken names of seniors from what CPHS yearbooks we have been able to find. So, start by finding your name after clicking "Classmate Profiles." Then click on your class year and find your name. Follow the instructions to create a password and enter your information. None of your personal contact information will be visible to any other classmate unless you check the box allowing it. The Reunion Committee may use your address or email address to send occasional information regarding upcoming events or news. We are happy you found us!! Your former classmates will be happy you found them, too!!
~~~~~~~~~~~~~~~~~~~~
June 25, 1988 was a sad day for College Park, and the thousands of students who passed through the halls of College Park High School. This photo is courtesy of Connie and Dan Harris (Class of 1959).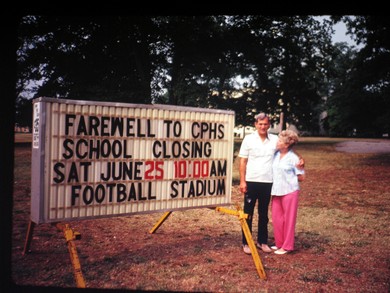 ~~~~~~~~~~
NEED A SCHOOL TRANSCRIPT?
In case anyone needs to obtain school transcript information, transcripts are available from the Fulton County Board of Education. Click here for a Records Release Form.
To release any information concerning a current or former student, you must provide written permission from the student. To obtain copies (official or unofficial) of student records/transcripts, you can mail or fax a request to the office below, or you can pick up the student records/transcripts at that office. They do not accept e-mail requests because the request must be signed by the student.
Please include the following information on your request:
Full name (while attending school)
Date of birth
Name of last school attended
Last year of attendance/graduation
Address of where you would like the student records/transcripts mailed*
Indicate if the student records/transcripts need to be official (sealed) copies
Daytime phone number or e-mail address to contact you for additional information, if necessary
Signature of student

*Please note that student records/transcripts will not be faxed; they must be sent by U.S. mail. Requests are processed and mailed the next business day after the request is received in the Records Management office. There is no charge for student records or transcripts.
The mailing address, phone and fax numbers:
Fulton County Schools
Records Management
2370 Union Rd SW
Atlanta, GA 30349
Office:(404)346-4382
Fax: (404) 346-4384
WANTED!!! YEARBOOK PHOTOS!!
We are in the process of adding senior yearbook photos to Classmate Profiles. Here's the status:
| | | | |
| --- | --- | --- | --- |
| YEAR | SENIOR PHOTOS UPLOADED | NEED YEARBOOK | YEARBOOK COURTESY OF |
| 1943 | YES | NO YEARBOOK-WAR | SENIOR CLASS PHOTO COURTESY OF MARY ELIZABETH HALL BOYD |
| 1944 | NO | NO YEARBOOK-WAR | |
| 1945 | YES | NO YEARBOOK-WAR | SENIOR CLASS PHOTO COURTESY OF JUANITA SIMS TEASLEY |
| 1946 | YES | NO YEARBOOK-WAR | SENIOR CLASS PHOTO COURTESY OF WANDA SMITH ADAMS |
| 1947 | YES | RETURNED | TOM OXFORD |
| 1948 | YES | RETURNED | TOM OXFORD |
| 1949 | YES | RETURNED | TOM OXFORD |
| 1950 | YES | RETURNED | TOM OXFORD |
| 1951 | YES | RETURNED | JANNA JANES |
| 1952 | YES | DONATED | RAY TATE |
| 1953 | YES | PROVIDED | MARCIA McGAHEE BORNEMANN |
| 1954 | YES | ON LOAN | JAMES WALLACE |
| 1955 | YES | RETURNED | JAMES KITE |
| 1956 | YES | ON LOAN | JAMES WALLACE |
| 1957 | YES | ON LOAN | JAMES WALLACE |
| 1958 | YES | SCANNED | TOM MILLER |
| 1959 | YES | RETURNED | DAN & CONNIE HARRIS |
| 1960 | YES | RETURNED | MARGIE AVERY |
| 1961 | YES | RETURNED | MARGIE AVERY |
| 1962 | YES | RETURNED | PAT ERNEST; JEAN McFARLAND WESTBROOKS |
| 1963 | YES | RETURNED | MARGIE AVERY |
| 1964 | YES | RETURNED | MARGIE AVERY |
| 1965 | YES | RETURNED | MIKE HENDRY |
| 1966 | YES | RETURNED | MIKE HENDRY |
| 1967 | YES | RETURNED | CORKY THOMAS |
| 1968 | YES | RETURNED | JEANNE THOMAS DUNAWAY |
| 1969 | YES | HAVE | WANDA WALLACE GOMEZ |
| 1970 | YES | HAVE | WANDA WALLACE GOMEZ |
| 1971 | YES | HAVE | WANDA WALLACE GOMEZ |
| 1972 | YES | HAVE | WANDA WALLACE GOMEZ |
| 1973 | YES | RETURNED | CAROL ESKEW PARHAM |
| 1974 | YES | RETURNED | DOUG ESKEW |
| 1975 | YES | RETURNED | LAURA BOTT |
| 1976 | NO NAMES | DONATED | SHERRY MARSH BOYNTON |
| 1977 | YES | RETURNED | LYNN EDWARDS |
| 1978 | YES | RETURNED | LYNN EDWARDS |
| 1979 | YES | RETURNED | LYNN EDWARDS |
| 1980 | YES | RETURNED | LYNN EDWARDS |
| 1981 | YES | RETURNED | LYNN EDWARDS |
| 1982 | YES | RETURNED | RON HANEY |
| 1983 | | NEED | |
| 1984 | | NEED | |
| 1985 | | NEED | |
| 1986 | | NEED | |
| 1987 | | NEED | |
| 1988 | | NEED | |
WE NEED THE OTHER YEARS' YEARBOOKS!!
If you have any senior photos, or have the ability to scan at least the senior photos from any yearbook you may have, please email to us at GeorgiaCPHS@gmail.com, so we can include them here. If you have a yearbook that you could let us borrow to scan and return to you, please contact us.
~~~~~~~~~~~~~~~~~~~~