College Park High School, College Park, GA


1943 - 1988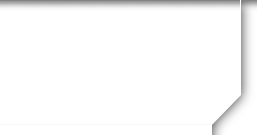 Not a member?
JOIN HERE
Find and click on your name.

Welcome to the CPHS Website! We, former students and teachers of CPHS, have been striving over the years to keep our memories of the good times and good friends we made during our short time at CPHS alive and well. This website is sponsored by the College Park High School 1943-1975 Reunion Committee to make contact and coordination easier, and hopefuly to find lost friends and classmates. We welcome any news about people or events relating to CPHS, and will be happy to present it here. If you have any news or messages, announcements of individual reunions, or anything else you'd like posted, please email us at GeorgiaCPHS@gmail.com, and we will put it under "class news." The more active you are, the better the site will be!!!
ANNOUNCEMENTS
LET ME TAKE YOU BACK THRU MEMORY LANE TO THE YEAR OF 1967 for a few minutes.
by Sandy Hill Foster

In 1967, we had the 1st ATM; 1st issue of Rolling Stones Magazine; 1st Boeing 737; Lyndon Johnson was President; world's 1st heart transplant took place in Africa; 1st hand held calculator; 1st Super Bowl-Green Bay Packers vs.Kansas City Chiefs; Evil Knievel jumped 16 cars on his motorcycle; Apollo 1 was destroyed on the launch pad & Vietnam War was happening.
Cost of Living: Postage Stamps 5 cents; gallon Milk $1.03; Movie Ticket $1.25; Big Mac 45 cents; dozen Eggs 49 cents; gallon Gas averaged 33 cents; loaf Bread 25 cents; new Home averaged $14,250; new Car averaged $2,750 and Minimum Wage was $1.40 an hour!
Top Movies: Bonnie & Clyde; In the Heat of the Night; Cool Hand Luke; The Graduate; & Guess Who's Coming to Dinner.
Top 5 Songs: To Sir with Love by Lulu; The Letter by Box Tops; Ode to Billie Jo by Bobby Gentry; Windy by the Associations and I'm a Believer by the Monkees!
Popular Musicians on records: Rolling Stones; Supremes; Bob Dylan; Beach Boys; Aretha Franklin; Beatles; and Elvis Presley.
TV Shows: Beverly Hillbillies; Walter Cronkite; Lucy Show; Gunsmoke; Bewitched; Hogan's Heros; Star Trek; Red Skelton; Ed Sullivan Show; Bestoink Dooley on Friday Night Horrors and Bonanza!
Lets look at our community and school in 1967:
We had black rotary dial home phones; dime pay phones & toilets; manual typewriters & carbon paper; real paper maps for directions; street cars called trolleys; Atlanta Terminal Train Station; Southeastern Fair; WQXI AM Radio; Atlanta Airport wasn't International; still had Eastern Air Lines; Lenox & Greenbriar shopping centers; Fox, Lowe's & Rialto movie theaters; Drive-In movies; funny TV Commercials like M&Ms & Alka Seltzer; lighting of Rich's Christmas Tree; Big Apple & Colonial Grocery Stores; Thunderbirds, Firebirds, Camaros, Cougars & Voltwagon Beetles; Atlanta Journal and Atlanta Constitution; Surburban Reporter; Davison's not Macy's; Grant Park & Cyclorama; Stone Mountain; The Blue Lights; Johnny Rebs; Brazier Burger; Lime Sours @ Stones Pharmacy; 711 Slurpees; Shoney's Hot Fudge Sundaes; Flossy Mae at the Varsity; Fulton County Stadium for the Braves, Falcons & Concerts; Cracker Jacks & cereal boxes with real prizes inside; metal Roller Skates with keys; selling Krispy Kreme Doughnuts on street
corners for 50 cents a dozen & making a profit for our club; Candy Stripers; Jr/Sr Proms; ROTC; SAT Exams; Club Activities; Sock Hops; Majorettes; Rametts; Drill Teams; Football, Baseball, Track; Wrestling; Basketball, Tennis & Golf teams; Pep Rallies; DCT; Rams Horn and Aries; Plays; Orchestra, Chorus & Band Concerts; Graduation; Homecoming; team letters on High School Jackets; Gym class uniforms; tall walk-in
Lockers; Miniskirts; Saddle Oxfords; Weejun Penny Loafers; guys wore belts to hold their pants up; girls didn't wear pants to school; delicious school lunches & spit balls in class!
We learned facts in American History. We pledged to the American Flag. We prayed in classrooms, ballgames, graduations and special events. We walked, rode bikes and carried piles of books to and from school. Those were the good ole days and I cherish the memories!
So the challenge to us is to pass on to the people around us the memories, the knowledge, the integrity, the patriotism, the responsibilities, the loyalty, the respect, the beliefs, the values, the compassion and the love that we all received and learned over the past 50 years!
And our reminiscing and memories from our 50th Reunion celebration are in our hearts, minds, and here:
~~~~~~~~~~
The First CPHS
In 1927, before CPHS was on Main Street, it was on the east side between Hawthorne and Temple. The building was later used as S.R. Young Elementary School.
This information and photo are courtesy of Steve Willingham (Class of 1967) from the 1927 CPHS yearbook "Broadcaster." Thanks, Steve!!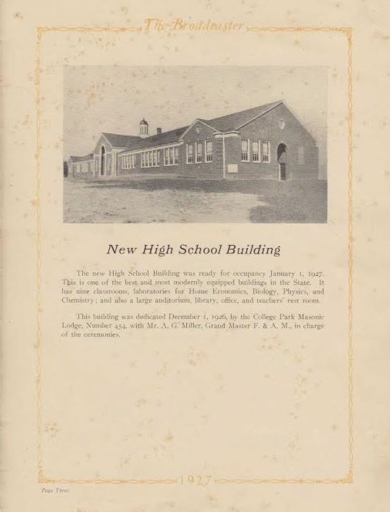 ~~~~~~~~~
HAVE YOU VERIFIED YOUR
EMAIL ADDRESS LATELY??
If you have changed your email address since registering (or if you never check it and your box is full), it's quite possible you will not receive email announcements from us. Please take a moment to log into your account and make sure the email address you log in with is a good one. If you can't remember your login and/or password, just let us know and we'll fix you right up!! Email georgiacphs@gmail.com. We have been receiving quite a few bouncebacks and if one of them is yours, you may be missing out!!
~~~~~~~~~~~
ANNABELLE -- GRAND LADY OF COLLEGE PARK
The Class of 1964 recently held their 50-year reunion. Paul Daniels provided a write up giving some history of the Annabelle house:
At our reunion, lots of "stories" were shared including those about the CPHS campus and what will become of it, along with stories about other "noteworthy" structures in College Park, some no longer there (The Tennessee Corp office on HWY 29 adjacent to Newton Estates) as well as the grand Victorian brick home that still sits on property adjoining College Park High School. Upon returning home to Hilton Head Island, I came across a handout for "Annabelle", also known as "Palmour House," which I received at an open house some years ago after the property had been restored by the Stokes & Murphy Law Firm.
Brian Marsh sent us the handout, which I found fantastically interesting. If you'd like to see it, click here.
To see photos from the reunion, click here.
~~~~~~~~~~~~
First-Time User or Haven't Set Up Your Profile Yet??
There are a lot more options available to registered users on our site, so if you haven't registered and created your profile yet, you'll probably want to!
Names of classmates from most years have already been added because we have taken names of seniors from what CPHS yearbooks we have been able to find. So, start by finding your name after clicking "Classmate Profiles." Then click on your class year and find your name. Follow the instructions to create a password and enter your information. None of your personal contact information will be visible to any other classmate unless you check the box allowing it. The Reunion Committee may use your address or email address to send occasional information regarding upcoming events or news. We are happy you found us!! Your former classmates will be happy you found them, too!!
~~~~~~~~~~~~~~~~~~~~
June 25, 1988 was a sad day for College Park, and the thousands of students who passed through the halls of College Park High School. This photo is courtesy of Connie and Dan Harris (Class of 1959).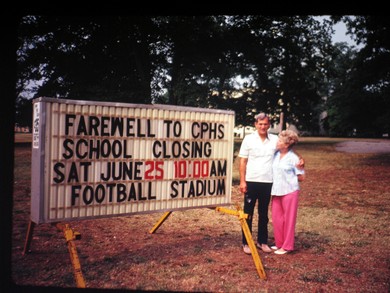 ~~~~~~~~~~
NEED A SCHOOL TRANSCRIPT, CERTIFICATION OF GRADUATION, OR EDUCATION VERIFICATION?
In case anyone needs to obtain school transcript information, a certificate of graduation, or education verification, that can be obtained from the Fulton County Records Management Department. Click here for a Records Release Form. For complete information, please visit http://www.fultonschools.org/en/divisions/it/records.
To Obtain Student Records/Transcripts
A signed Records Request Form can be either mailed, emailed or faxed to the Records Management Office. Please see submission information below:
Records Management
6201 Powers Ferry Road
Sandy Springs, GA 30339
Fax: (866) 858-7820
Email: recordsrequests@fultonschools.org
If a student is 18 years of age or older, the student must sign the request.
Copies may also be picked up at our office with a state/federally issued photo ID. When picking up records on behalf of a former student that is 18 or older, a signed and notarized letter from the student is required.
There is no charge for student records/transcripts.
Requests are generally processed and mailed the next business day after receipt of request.
Required Information for Requests
When requesting records, please include the following information:
Full name (while attending school)

Date of Birth

Name of School Attended

Last Year of Attendance or Graduation

Complete address where records are to be mailed (name of organization/person, address, city, state, zip)

Indicate if the student records/transcripts need to be official (sealed) copies and number of copies

Legible copy of federal/state issued photo ID

Daytime phone number or email address to contact you for additional information

Signature of student (if 18 or older) or parent/guardian
Education Verification
Companies seeking to verify a former student's education/graduation, please follow the following process:
Obtain a signed release from the former student (electronic signatures will not be accepted)

Verification forms, along with the signed release, may be faxed to (866-858-7820) or emailed to recordsrequests@fultonschools.org. Verifications are usually processed the next business day from the day of receipt

Information neccessary to verify student:

Full name at time of attendance

Birth date

School Name

Date last attended/graduated

Once completed by Records Management, the completed verification form will be faxed back to you unless otherwise indicated.
~~~~~~~~~~~
WANTED!!! YEARBOOK PHOTOS!!
We are in the process of adding senior yearbook photos to Classmate Profiles. Here's the status:
| | | | |
| --- | --- | --- | --- |
| YEAR | SENIOR PHOTOS UPLOADED | NEED YEARBOOK | YEARBOOK COURTESY OF |
| 1943 | YES | NO YEARBOOK-WAR | SENIOR CLASS PHOTO COURTESY OF MARY ELIZABETH HALL BOYD |
| 1944 | NO | NO YEARBOOK-WAR | |
| 1945 | YES | NO YEARBOOK-WAR | SENIOR CLASS PHOTO COURTESY OF JUANITA SIMS TEASLEY |
| 1946 | YES | NO YEARBOOK-WAR | SENIOR CLASS PHOTO COURTESY OF WANDA SMITH ADAMS |
| 1947 | YES | RETURNED | TOM OXFORD |
| 1948 | YES | RETURNED | TOM OXFORD |
| 1949 | YES | RETURNED | TOM OXFORD |
| 1950 | YES | RETURNED | TOM OXFORD |
| 1951 | YES | RETURNED | JANNA JANES |
| 1952 | YES | DONATED | RAY TATE |
| 1953 | YES | PROVIDED | MARCIA McGAHEE BORNEMANN |
| 1954 | YES | ON LOAN | JAMES WALLACE |
| 1955 | YES | RETURNED | JAMES KITE |
| 1956 | YES | ON LOAN | JAMES WALLACE |
| 1957 | YES | ON LOAN | JAMES WALLACE |
| 1958 | YES | SCANNED | TOM MILLER |
| 1959 | YES | RETURNED | DAN & CONNIE HARRIS |
| 1960 | YES | RETURNED | MARGIE AVERY |
| 1961 | YES | RETURNED | MARGIE AVERY |
| 1962 | YES | RETURNED | PAT ERNEST; JEAN McFARLAND WESTBROOKS |
| 1963 | YES | RETURNED | MARGIE AVERY |
| 1964 | YES | RETURNED | MARGIE AVERY |
| 1965 | YES | RETURNED | MIKE HENDRY |
| 1966 | YES | RETURNED | MIKE HENDRY |
| 1967 | YES | RETURNED | CORKY THOMAS |
| 1968 | YES | RETURNED | JEANNE THOMAS DUNAWAY |
| 1969 | YES | HAVE | WANDA WALLACE GOMEZ |
| 1970 | YES | HAVE | WANDA WALLACE GOMEZ |
| 1971 | YES | HAVE | WANDA WALLACE GOMEZ |
| 1972 | YES | HAVE | WANDA WALLACE GOMEZ |
| 1973 | YES | RETURNED | CAROL ESKEW PARHAM |
| 1974 | YES | RETURNED | DOUG ESKEW |
| 1975 | YES | RETURNED | LAURA BOTT |
| 1976 | NO NAMES | DONATED | SHERRY MARSH BOYNTON |
| 1977 | YES | RETURNED | LYNN EDWARDS |
| 1978 | YES | RETURNED | LYNN EDWARDS |
| 1979 | YES | RETURNED | LYNN EDWARDS |
| 1980 | YES | RETURNED | LYNN EDWARDS |
| 1981 | YES | RETURNED | LYNN EDWARDS |
| 1982 | YES | RETURNED | RON HANEY |
| 1983 | | NEED | |
| 1984 | | NEED | |
| 1985 | | NEED | |
| 1986 | | NEED | |
| 1987 | | NEED | |
| 1988 | | NEED | |
WE NEED THE OTHER YEARS' YEARBOOKS!!
If you have any senior photos, or have the ability to scan at least the senior photos from any yearbook you may have, please email to us at GeorgiaCPHS@gmail.com, so we can include them here. If you have a yearbook that you could let us borrow to scan and return to you, please contact us.
~~~~~~~~~~~~~~~~~~~~